The Perfect Way to Structure a Blog Post for SEO Traffic
Lets talk about how to write the perfect blog post. It isn't easy at first but there is a method to a great blog post, and that is learning the right way to structure a blog post. We're going to talk about how to write a SEO friendly post that will that will bring in organic traffic, and how to give your reader the solution they were looking for.
After you've done all that work to bring in readers to your blog with SEO you want them to stay on your site and read more of your content, so solving their problem is just as important as getting that post to rank on Google. I'll show you how to structure a blog post in a way that helps the reader and your SEO.
What is SEO and Why It's Vital to Your Blog's Success
Choosing the Right Topic for Your Blog Post
Before you write any posts you need to know who you're writing for. Who is your target demographic? Define your audience. Are they male or female? Young or old? What do they struggle with?
What problem are you solving for your reader, or how are you helping them? What question are you answering? What is the step by step solution for solving the problem? How do you want the reader to feel after reading the post?
Articulate what the problem is, and be specific. Not only for your reader, but so that search engines know what your post is about and can show it to the right people.
Will your post rank on Google?
The second thing you have to take into consideration is if you can rank your post on the first page of Google.
There isn't much point in writing a post if no one is going to see it, right?
Now Google isn't the only way to get eyes on your blog, but it should really be the goal of the majority of your posts. You can get traffic from Pinterest or other social media, but unless you already have a big following that is going to take time.
Do SEO research, find the right keywords that will help you rank on Google. Keysearch is my favorite tool for keyword research, I have a guide to take you step by step through the process.
How to Find Low Competition Keywords
A Few Things to Know About Writing Your Blog Post
Before we get into the technical structure of your blog post there are a few tips you need to know to make your post easier to read and to make a better connection to your reader.
Write an Outline First
It's important to have a general outline of your post before you start writing content. After writing blog posts for over a year I can tell you that it is so much easier to have the general shape of your content mapped out before you start trying to fill in all the details.
Start with writing all your main points as headers. I use Notion (it's free!) to draft all my posts and you can easily create all your headers on it, it's even easy to do on your phone. When you copy/paste all your content over the headers will keep their format.
Once you have your main points you can start writing the actual content. Having your outline will make writing a post so much faster. I have a hard time writing a post in one sitting so I fill out my draft in sections throughout the week and once I have at least 50% done it's much easier for me to start really fleshing it out.
Your Post Needs to be Easy to Read
First it's important to know that writing a blog post isn't quite like writing an essay. Essays have long complex paragraphs, while blog posts need to have shorter 1-3 simple sentence blocks that are easy to read.
Long blocks of text can be overwhelming or boring to the average reader, especially if they are reading on their phones, but don't hit enter after every single sentence because then it looks obnoxious.
Your posts do need introductory and conclusion paragraphs though, and they need to have proper grammar and no spelling mistakes. Grammarly is a great tool to catch any mistakes.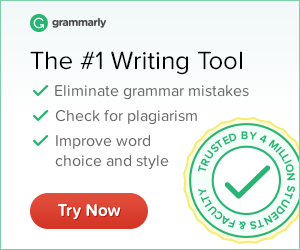 Blog posts need some breathing space, so it's good to use white space when you can. I like to use a spacer block before each header and after any photos within the post. On WordPress you can save blocks so I have a 40px block saved so I can easily insert those where needed.
You're also going to use a few headers throughout your post. H1 is your title, H2 is for your main points, and H3 breaks your main points (your solution) into subsections. There are also H4-H6 headers but you don't really need to use them.
You can use a few photos in your post as long as they are relevant to the subject. I don't recommend using huge photos though. Try the Styled Stock Society for amazing stock photos.
Use Power Words in the Title
Headlines with power words get more clicks. Power word are words that invoke a strong emotional or psychological response which entices the reader to click on your link.
Humans are quite emotional, so using a using a headline with emotional sentiment often gets more clicks. Power words tell the reader your post contains exciting or need to know information.
Your power word should create either a positive or negative emotion, but don't oversell. If the content in your post doesn't live up to your headline the reader will leave.
Some examples of power words are:
Guaranteed
Effortless
Secret
Unbelievable
Genius
Headlines with a number get more clicks too, so lets put them together.
10 Effortless Ways to Solve the Problem
5 Guaranteed Steps to Achieve the Result
20 Genius Actions that Will Improve Your Life
I've created a free cheat sheet with 50 power words, 25 plug in titles, and a visual guide for the perfect way to structure a blog post.
Make Your Article Long Enough
It can be tempting to write a bunch of shorter articles, but Google actually likes posts to be around 2000 words in length or longer.
If you're stopping at 500 words you aren't digging deep enough into the subject. You don't ever want your reader to come to the end of a post and feel like they didn't get the answer they needed because you barely skimmed the surface. Your reader will appreciate your being thorough and answering all their questions.
Additionally, when Google sees that people are quickly leaving your page they know that you aren't offering helpful information, and your ranking will start to drop.
Longer posts also keep people on your site for longer, which sends a signal to Google that you are providing value.
Internal & External Linking
Another important things to do is link to other relevant posts throughout or at the end of your post. This helps to not only offer the reader other helpful information on the subject, but it keeps them on your website.
Internal linking is also important for SEO. Google scans your posts and the internal links, so showing that you have further knowledge on the subject shows Google that you are an authority and they should rank your posts higher.
External linking (linking to other reputable websites) is also important. It gives your reader other resources and proves that you know what you're talking about to them and to Google.
The Perfect Way to Structure a Blog Post
H1 – Title with Main Keyword/Phrase
So you have a topic in mind, you've done keyword research, now you have to figure out the right way to present it not only to your readers, but to search engines as well.
Your title should make it clear to the reader that you are answering the question or solving the problem they have and it should have your low competition keyword that will help you rank on Google.
Introduction – What is your reader's problem, let them know you are going to solve it. + Main Keyword/Phase
Your first paragraph is where you give the reader an introduction to the topic.
Briefly let them know that you understand the problem and that you are going to give them the solution or tools they need to solve it.
For example, your problem is not knowing how to structure blog posts, or wanting to learn to do it better. I'm solving the problem by walking you through the process of writing a SEO friendly blog post step by step.
H2 – Why Solving the Problem is Important + Main Keyword
Your first H2 header is a great tool for both SEO and keeping your reader engaged.
This is a good spot to repeat your main keyword, or if it flows more naturally use a secondary keyword and put your main keyword in another H2. I try to make sure to use at least two H2 headers in each post.
Content – Use secondary keywords.
Use the space after your first header to explain to the reader why solving their problem is important. Talk about how the problem affects people and how they will benefit from fixing it. This shows that you understand the problem and establishes trust between you and the reader.
If you've experienced the problem let your reader know about your experience. What was your struggle and how did finding the solution change your life?
Being relatable helps the reader warm up to you and can make them want to come back to your blog.
H2 – How You Solve the Problem + Secondary Keywords
Use your third H2 to announce that the reader is about to be given the solution or answer they came here for. Use your main or secondary keyword here. Don't use your main keyword in both, for the sake of not being too repetitive. Let's say your main keyword is 'get motivated to workout,' here is how you might use it in your title and your H2s.
Title (H1): 5 Easy Ways to Get Motivated to Workout at Home —- main keyword
First H2: Why Working Out is So Important —- secondary keyword
Second H2: How to Get Motivated to Workout at Home Everyday —- main keyword + a sneaky secondary keyword 'get motivated to workout at home everyday'
Then I like to go straight into my first H3 header.
H3 + Content – Steps your reader can take to solve the problem.
This is where you get into the solutions. It's a good idea to break the solution down into smaller steps, that's where you use H3 headers. These are essential ways to break up chunks of content into easily digestible pieces so that your reader is not overwhelmed.
At least three is good but use however many the subject needs.
Summary or Final Thoughts – Use Keyword
Once you've finished giving your reader the solution finish off with a short summary or a rundown of the key concepts you covered. Wrap everything up concisely.
If I can I like to use another H2 with a keyword, for example:
Final Thoughts on Finding Motivation to Workout at Home
CTA – Call to Action (Question, Email Opt-In, Sales Pitch)
Last but not least, thank your reader and give them a Call to Action.
Ask them a question like "how do you get motivated to workout at home?" Get their feedback.
Invite them to subscribe to your newsletter for similar content.
Share a product that relates to the problem.
Ask them to share the post on social media.
---
Final Thoughts on Perfectly Structuring Your Blog Post
Lets review some of the key concepts for crafting a perfect blog post:
Choose a topic (keyword) you can rank for.
Write an outline first.
Make your blog easy to read.
Use power words in the title.
Make your post around 2000 words.
Create internal and external links.
Use the proper structure with H2 and H3 headers.
We covered a lot of information in this post, you're a trooper if you've made it this far. I hope everything was clear and easy to understand, please let me know if you have further questions.
Don't forget your cheat sheet!